Some Coats of Arms of the
Cheek and Chick Families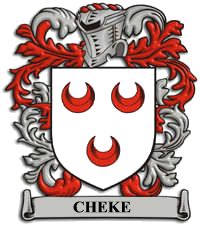 Sir John Cheke's Coat of Arms
Argent, three crescents gules.

ir John Cheke (1514-1557) was one of the most accomplished Cheeks in history, and certainly the most famous. A celebrated scholar, Sir John taught Greek at Cambridge University and served as a tutor to the young Prince of Wales, later King Edward VI. Sir John supported the Protestant Reformation and was even sent to the Tower of London for his trouble. He was eventually released, but died soon after. A century following his death, Sir John Cheke was lamented by the poet John Milton, who considered him a great man from England's lost golden age of learning:
"Thy age, like ours, O soul of Sir John Cheke,
Hated not learning worse than toad or asp,
When thou taughtest Cambridge and King Edward Greek."
Elsewhere, Milton wrote that "Sir John Cheeke the Kings Tutor, [was] a Man at that time counted the learnedest of Englishmen."
Although many Americans with the Cheek surname hope to find a relationship to the Isle of Wight Cheeks, no link has yet been proven. There were also numerous Cheeks and Chicks in Devon, Somerset, Dorset, and other parts of southern England going back to the 1500's, if not earlier.
Sir John Cheke's coat of arms consisted of three red crescents on a silver shield (Argent, three crescents gules). According to The General Armory of England, Scotland, Wales by Sir Bernard Burke (1884), he was also entitled to use a crest (not shown on the above image) featuring "a crescent issuant from the horns a cross pattee fitchy gules," i.e., a crescent emerging from a red cross drawn in the "pattee fitchy" style. Burke notes that when Sir John Cheke adopted this crest, he reliquished his former crest, which was "a leopard sejant collared and chained," i.e., a seated leopard with a collar and chain around its neck -- a traditional symbol of faithful service. The crest goes on top of the helmet when a coat of arms is displayed in its full "achievement."
The Cheek family of Debenham, Suffolk, also used a coat of arms featuring three red crescents on a silver shield. (See A Dictionary of Suffolk Arms by Joan Corder (1965).) The Debenham Cheeks appear to have been distantly related to the Isle of Wight family. A different coat of arms associated with the Debenham Cheeks featured various permutations of a red or gold cock (see below). The cock may have been a pun on the name Cheek (Chick). And maybe the red crescents on Sir John Cheke's arms were meant to evoke a capital letter "C"?
Important note regarding Coats of Arms. Many popular "surname origin" services will happily sell you a lovely scroll picturing your family's coat of arms. These services take advantage of our American naiveté. Sadly, there is no such thing as a "coat of arms for a surname." According to the official College of Arms website

, "Many people of the same surname will often be entitled to completely different coats of arms, and many of that surname will be entitled to no coat of arms. Coats of arms belong to individuals. For any person to have a right to a coat of arms they must either have had it granted to them or be descended in the legitimate male line from a person to whom arms were granted or confirmed in the past."
Another common misconception is that having a coat of arms implies that one's family was aristocratic or even of royal blood. In fact, after the 15th century, coats of arms were regularly granted to wealthy townspeople, merchants, and other commoners with good social standing in their communities.
However, if you enjoy heraldry (and who doesn't?), there's no harm in seeing what coats of arms were owned by your "surname cousins." Who knows -- one of them could be your ancestor. Along with Sir John Cheke, Burke's General Armory includes several other coats of arms granted to various individuals named Cheek, Cheeke, or Cheke. Unfortunately, Burke provides little or no information about any of these individuals except for (occasionally) noting their place of residence. For the Cheek family of Suffolk, Corder's A Dictionary of Suffolk Arms is a better reference and includes sources. The following graphics are my own, hopefully more or less accurate interpretation of the heraldic jargon. Colors: Or = gold, Argent = silver (normally depicted as white), Sable = black, Azure = blue, Vert = green, Gules = red, Ermine = a black and white pattern meant to symbolize white fur. For more information about heraldry, visit Lord Kyl's Heraldry Site

or The Blazonry Server

| | |
| --- | --- |
| | |
| CHEKE of Bruton, Somerset. | CHEEKE of Suffolk. |
| Ermine, on a chief sable three fusils or. Heralds' Visitation of Somerset (1623). | Argent, a fesse vairy or and gules between three water-bougets azure. (c.1600's) |
Several coats of arms featuring a cock, or rooster, were used by the Cheeks of Suffolk, England. The cock may have been a pun on the name Cheek (i.e., chick or chicken). Burke's General Armory includes Gules, a cock argent (a silver cock on a red shield) and Or, a cock gules beaked sable (a red cock with a black beak on a gold shield). A number of other variations appear in Corder's A Dictionary of Suffolk Arms, including the following:
| | | |
| --- | --- | --- |
| | | |
| CHEEKE of Debenham, Suffolk. | CHEKE of Debenham, Suffolk. | CHEEKE of Suffok. |
| Argent, a cock gules. Heralds' Visitation of Suffolk (1561). | Or, a cock gules armed combed and wattled sable. (c.1565.) | Gules, three cocks or. (c.1600's) |
The following surnames may or may not be related to Cheek/Chick, but I include them here for general interest and further research.
| | |
| --- | --- |
| | |
| CHOKE, CHEEK of Abingdon, Berkshire. | CHICHE of Oxfordshire. |
| Argent, three cinquefoils per pale vert and gules. Note this family is called "Choke" in the Heralds' Visitations of Berkshire (1532, 1566, 1666), but Burke's General Armory has "Cheek." They were descendants of Sir Richard Choke (d.1483) of Long Ashton, Somerset. | Azure, three lions rampant within a bordure argent. Heralds' Visitation of Oxfordshire. |