Chesley Cheek &
Phebe Woodruff
Chesley Cheek, son of Richard CHEEK & Jane "Jennie" ANDREWS, was born 1810 in Orange Co., NC, and died Apr. 29, 1864, in Alleghany Co., NC (murdered by "bushwhackers"). He married Phebe Woodruff, daughter of Moses WOODRUFF, Jr., & Sarah PHILLIPS, abt. 1830. She was born Mar. 1802 in Surry Co., NC, and died Mar. 1, 1869, in Alleghany Co., NC. Chesley and Phebe Cheek are buried at the Chesley Cheek Cemetery, Vox community, Alleghany Co., NC.
Children of Chesley Cheek & Phebe Woodruff:
+Sarah "Sally" Cheek, b. Apr. 20, 1832, Ashe Co., NC; d. July 14, 1910, Alleghany Co., NC; m. Thomas HIGGINS, son of Linville HIGGINS & Judea KIRBY, Feb. 20, 1851, Ashe Co., NC (b. Nov. 28, 1826; d. Feb. 20, 1918); bur. Chesley Cheek Cemetery, Alleghany Co., NC.
+Richard "Dixie" Cheek, b. Sept. 8, 1834, Ashe Co., NC; d. July 19, 1913, Alleghany Co., NC; m. Martha "Patty" JENNINGS, daughter of Solomon JENNINGS & Sarah FENDER, Jan. 28, 1857, Ashe Co., NC (b. Dec. 31, 1838; d. July 22, 1935); bur. Pleasant Home Union Baptist Church, Alleghany Co., NC.
Elizabeth "Betty" Cheek, b. 1838, Ashe Co., NC; d. Dec. 29, 1895, Alleghany Co., NC; never married; bur. Pleasant Home Union Baptist Church, Alleghany Co., NC.
+Lucinda "Sinda" Cheek, b. Mar. 19, 1841, Ashe Co., NC; d. May 01, 1921, Alleghany Co., NC; m. Thomas ANDREWS (ANDERS), son of Sandy ANDREWS (ANDERS) & Sarah MONCUS, Sept. 8, 1879, Alleghany Co., NC (b. Mar. 1857; d. Feb. 5, 1928); bur. Pleasant Home Union Baptist Church, Alleghany Co., NC.
+Abner P. Cheek, b. 1842, Ashe Co., NC; d. July 3, 1864, Petersburg, VA; never married; buried at the Confederate Cemetery in Petersburg, VA. Military records indicate that Abner was wounded in the left lung on June 16, 1864, during the Battle of Petersburg. He was hospitalized in Petersburg on June 17, 1864, and died of wounds July 31, 1864.
+Gilley Cheek, b. 1843, Ashe Co., NC; d. Dec. 28, 1912, Alleghany Co., NC; m. Isom B. COX, son of John R. COX & Mary ANDREWS, Nov. 28, 1880, Alleghany Co., NC (b. Feb. 27, 1855; d. Dec. 4, 1932); no children; bur. Isom B. Cox Cemetery, Rd. 1412, Alleghany Co., NC.
+William M. Cheek, b. Apr. 14, 1844, Ashe Co., NC; d. Dec. 19, 1873, Alleghany Co., NC, at the age of 29; m. Matilda RECTOR, daughter of Warren RECTOR & Nancy EDWARDS, Feb. 4, 1868, Grayson Co., VA (b. Jan. 2, 1851; d. Feb. 18, 1950); bur. William Cheek Cemetery, Rd. 1414, Alleghany Co., NC.
Notes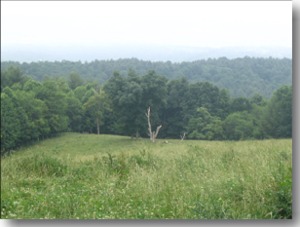 View from the Meredith Cheek Cemetery,
on top of a hill near Road 1412. Much of
this land once belonged to the Cheek family.

hesley Cheek was born in Orange County, NC, but came to Ashe County (later Alleghany County) with his family when he was a child. He was the second eldest son of Richard and Jane "Jennie" Cheek. Birth and death dates for Chesley and Phebe are from Alleghany County Cemeteries Through 1986 published by the Alleghany County Historical- Genealogical Society (1988). Chesley and Phebe were buried in family cemetery on their land in the Vox community of Alleghany County.
Chesley's name was spelled "CHES-ley" not "CHEL-sey." This unusual name was popular in Virginia and North Carolina in the 1800's. There were several men named Chesley in Orange County, NC, including Chesley Cheek's first cousin Chesley Andrews (b.1820), and Chesley Lloyd (b. abt. 1818), who may have been a distant cousin on the Andrews side. The use of "Chesley" as a first name seems to have comes from Virginia's Tidewater region, where it probably evolved from the surname CHICHELEY, after Sir Henry Chicheley, deputy governor of Virginia from 1678-1682. One early example is Chicheley Corbin Thacker (c.1673-1731), a large landowner and prominent citizen of the Tidewater area, whose name was variously spelled Chickerley, Chitty, Chisley, and Chesley. The curious relationship between the names Chicheley, Chisley, and Chesley is discussed in the article "Captain William Daniel of Middlesex" by William B. Newman, originally published in Tylers Quarterly Historical and Genealogical Magazine, Vol. XII (1931); reprinted in Genealogies of Virginia Families, Vol. 1 (Genealogical Pub. Co., 1981), p.491.
Chesley Cheek married Phebe or Phoebe Woodruff about 1830, based on the ages of their children. She is believed to be the daughter of Moses Woodruff & Sarah Phillips of Surry County, NC. Her maiden name is proven by the death certificate of her daughter Lucinda "Sinda" Cheek Andrews (wife of Thomas Andrews) (date of death May 1, 1921, Alleghany Co., NC), which identifies Lucinda's parents as Chesley Cheek and Phoebe Woodruff.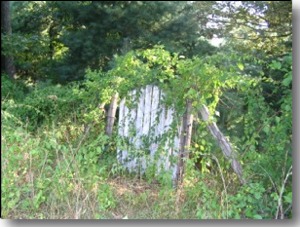 The Chesley Cheek Cemetery
September 2007
Chesley was murdered on April 29, 1864. According to a family story, Chesley was shot in the back while running to his daughter-in-law's farm to protect her from a gang of "bushwhackers" (see Alleghany County Heritage (Alleghany County Hist.-Gen. Soc., 1983), p.122, article No. 192 by Porter Fender). Bushwhackers were deserters or bandits who terrorized rural areas of the South during the Civil War. There is another story that he was shot in an orchard. Interestingly, Chesley did have an orchard on his property, proven by three deeds involving his neighbors Archibald Edwards and Morgan Edwards that mention the "old orchard fence". (Alleghany DB 1:488-489 and 2:33). According to another story recalled by the late Williemay Cheek, Chesley was killed at night while serving as a "watcher" or lookout for bushwhackers.
Chesley's daughter-in-law Matilda Collins, widow of William M. Cheek, was interviewed at the age of 98 by the Alleghany County Librarian Mrs. Carrie Jones. The interivew was originally published June 9, 1949, and was recently reprinted in a collection by her nephew David L. Ham called The History of Alleghany County from Interivews and Articles Written and Collected by Carrie Hamm Miller (available at the Alleghany County Library). Matilda Collins told Mrs. Jones that Chesley Cheek "was killed by deserters on his son's farm where Kenny Truitt now lives … One of the neighbors was able to overtake these men and killed one of them." [James McKenny Truitt was married to Lillis Cheek, daughter of Chesley's son Richard "Dixie" Cheek.] Matilda Collins showed Mrs. Jones "a woven coat and vest and the hat Mr. Cheek had on at the time of his death. The bullet hole is easy to see." Mrs. Collins had Civil War letters written by Chesley's sons Richard, William, and Abner. Carrie Jones transcribed one of the letters from Abner, which refers to Chesley's murder (see notes under Abner Cheek; also see notes under William M. Cheek for another Civil War letter still in the possession of William's descendants. The other letters were apparently given to a museum many years ago).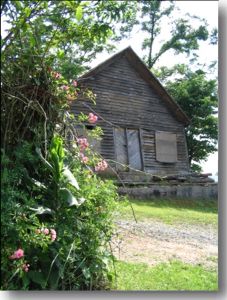 Vox General Store
Did Unionists meet here?
Although the stories blame deserters or "bushwhackers" for Chesley's death, it is also possible that Chesley was murdered as a result of violence that broke out during this time period between supporters of the Confederate cause and those who favored an end to the war and restoration of the Union. The Cheek family appears to have joined the Unionist group as the war neared its tragic end. Late in the war, the local Baptist churches split apart over how to treat deserters and whether fighting for the Confederacy was a sin. The Cheeks became associated with the Pleasant Home Union Baptist Church in Vox, which was established by war opponents. Chesley Cheek's brother Henderson Cheek was involved in an effort to form a "Union District" of Alleghany County in October 1864 (Alleghany DB A-1, p.170; performance bond posted by H. CHEEK & J.P. CAUDILL for James R. CAUDILL to serve as constable of the Union District). Henderson's son Francis Bryan Cheek deserted from the army and (according to a family story) he lived in the woods on Cheek Mountain to hide from the Homeguard. When I visited Alleghany County in 2007, I met a descendant of Chesley Cheek who told me that she heard a story growing up about the Unionists of Alleghany County meeting in secret at the Vox general store, which was owned by the Cheek family. The remains of the store are still standing today across the road from the Pleasant Home Church.
After Chesley's death, his widow, Phebe, filed an administrator's bond on July 23, 1864, with A.M. BRYAN and Richard EDWARDS as sureties. This is the only document in the Alleghany County records concerning the disposition of Chesley's estate. There does not appear to have been a formal probate; Phebe and the children divided up the land by executing a series of deeds among themselves.
Chesley Cheek Cemetery
Chesley and Phebe are buried in the Chesley Cheek Cemetery, located on Chesley's former land in the Vox community of Alleghany County, NC. The cemetery is back in the woods on the north side of Osee Road, off of a gravel road that begins directly across from the house at 264 Osee Road. When we visited the cemetery in September 2007, it was very overgrown, but Chesley and Phebe's stones were in surprisingly good condition. The thick vegetation and encircling trees may have protected the stones from the elements. The stones were fairly free of lichen and dirt, and may have been cleaned by someone in the not-too-distant past. We counted many fieldstones -- enough to suggest that whole family (now forgotten) may have used this cemetery before the Cheeks. A pair of fieldstones next to Chesley's grave could possibly be his parents. Chesley's gravestone has an unusual shaped top, and his footstone is engraved with a cross.