James Thompson
& Rachel Johnson
James Thompson, son of Joseph THOMPSON, Sr., & Isabella HENDERSON, was born June 7, 1769, in Louisa Co., VA, and died Sept.-Dec. 1847 in Surry Co., NC. He married (1) Rachel Johnson, possibly the daughter of Thomas & Rachel JOHNSON. She was born Feb. 6, 1765, in Johnston Co., NC, and died unk. He married (2) Rebecca, last name unknown. James and Rachel Thompson are believed to be buried at the Thompson Family Cemetery

on the Mitchell River near the town of Devotion, Surry Co., NC.
Children of James Thompson & Rachel Johnson:
William Thompson, b. abt. 1790; d. 1849, Surry Co., NC; m. Pheraby CAUDILL (b. abt. 1791; d. ?).

Children:

C. Haywood Iredell (C.H.) Thompson (c.1824), Elihu James Thompson (1827), Julia Ann Thompson (1835).
Isabella Thompson, b. Sept. 1, 1794, Surry Co., NC; d. July 11, 1875, Alleghany Co., NC; m. George DOUGLAS (b. Jan. 14, 1792; d. July 12, 1872); bur. Elk Creek Church, Alleghany Co., NC.

Children:

William Thomas Douglas (1812) m. Elizabeth "Betsy" EDWARDS; Sylvia "Sibbie" Douglas (c.1815); Johnson O. Douglas (c.1820; d. Civil War); Daniel Douglas (c.1824, d. Civil War); Thomas J. Douglas (c.1825) m. Matilda CROUSE; James Douglas (c.1830); Martha Douglas (c.1833). Note: George Douglas was an early settler in the Edwards Crossroads community of Alleghany County, NC. For many years he served as pastor of the Little River Primitive Baptist Church. See Alleghany County Heritage Article #271, p.175. He's sometimes listed in family trees as "Rev. George Douglas" but there are no reverends in the Primitive Baptist Church; technically he was an Elder.
John O. Thompson, possibly the John O. Thompson b. abt. 1796, Surry Co., NC; d. bet. 1860-1870, Cumberland Co., TN; m. Elenor S. __ (b. abt. 1805; d. aft. 1880). John O. Thompson purchased 2 slaves from the estate of James Thompson in 1848. James Thompson's will stipulated that the Blacks only be sold to his children. John O. Thompson isn't found in Surry Co. records but it appears he went to Tennessee where he is listed in the 1840-1850 census of Rhea Co., TN, and the 1860 census of Cumberland Co., NC. John's widow Elenor S. Thompson sought pension benefits in Cumberland Co., TN, in 1879, for John's service in the War of 1812. Henderson THOMPSON made oath in Surry Co., NC, that he served with John O. THOMPSON, pvt. in the War of 1812 in Capt. John Witcher's company of NC Volunteers. (Thompson Family Magazine, Vol.12, No.45 (Spring 1973), p.84.)

Children:

Sarah Thompson (c.1837), William H. Thompson (c.1840).
+Rachel Thompson, abt. 1799, Surry Co., NC; d. bet. 1860-1870, Wilkes Co., NC; m. William B. KENNEDY, son of Aaron Canady, Sr., of Wilkes Co., NC, May 15, 1819, Surry Co., NC (b. May 13, 1798; d. 1874).
Sarah Thompson, probably b. abt. 1800-1805, Surry Co., NC; d. bet. 1830-1832, Surry Co., NC; m. John KENNEDY, son of Aaron Canady, Sr., abt. 1824 (b. abt. 1800; d. 1883). The will of Sarah's father James THOMPSON dated Sept. 17, 1847, mentions deceased daughter Sarah, wife of John Kennedy, and directs that her husband receive only 25 cents and her portion of the estate be distributed to her children, to wit: Churchwill, Tennesee, Pleasant and Williamson.
Notes

ames Thompson of Surry County, NC, was a son of Joseph Thompson, Sr. and Isabella Henderson, originally from Louisa County, VA. (See Surry County Heritage, Vol. 1, article #708.) James was probably born in Virginia before his family moved to North Carolina. He married Rachel JOHNSON around 1789 based on the birth of their oldest child, William, in about 1790. Rachel Johnson was probably the daughter of Thomas and Rachel JOHNSON of Wilkes County, NC. Thomas JOHNSON died in 1786 and his will names a daughter Rachel who would be the right age to have married James Thompson. Also, James Thompson's younger sister Mary married Thomas Johnson's son Richard Henry Johnson.
James Thompson died testate in Surry County in 1847. His will dated Sept. 17, 1847, names his wife Rebecca, son William THOMPSON, daughter Mary BREWER (wife of William BREWER), and four children of deceased daughter Sarah (wife of John KANADY), to wit: Churchwill, Tennessee, Pleasant, and Williamson KANADY. (Surry Co., NC, WB 4, p.265.) James Thompson's will states, "My desire is that my Blacks are to be put up and sold amongst my Children only". According to documents in the estate file, the slaves were sold on Jan. 6, 1848, to John O. THOMPSON, W.B. KENNEDY, and George DOUGLAS. Assuming the administrator complied with James Thompson's request to keep the Blacks in the family, this document is evidence that John O. THOMPSON was a son of James Thompson, and George DOUGLAS and William B. KENNEDY must have been sons-in-law.
A number of relatives, friends and neighbors purchased household items and farming implements at the estate sale which was held on Jan. 6, 1848, including A.J. (Jackson) THOMPSON, Calvin THOMPSON, David THOMPSON, J.O. THOMPSON, H. THOMPSON, William B. KENNEDY, George DOUGLAS, Norwood KENNEDY, Ruffin KENNEDY, Thompson KENNEDY, Johnson DOUGLAS, William T. DOUGLAS, David COCKERHAM, John COCKERHAM, Stephen COMBS, Jonathan W. GENTRY, Harrison HARRIS, Lafayette HARRIS, Joel KIRBY, Levi LEWIS, Wm. MARSH, Clemmons NORMAN, Isaacks NORMAN, Abner PHILLIPS, John RICHARDSON, Joseph RICHARDSON, Daniel C. ROBERTS, and Thomas SMITH. Among other things, James Thompson owed a Bible and a volume of writings by John Bunyan.
James' son William THOMPSON was originally the administrator of the estate, but he appears to have died sometime between March and November 1849 and was replaced as administrator by his son C. Haywood (C.H.) THOMPSON. (Note, Surry County Heritage states that C.H. Thompson was a son of James Thompson, but this is not possible because C.H. Thompson was born in 1824, and James Thompson's wife was over age 45 in the 1820 census and age 60-70 in the 1830 census.) An accounting of James Thompson's estate signed by C.H. Thompson on Jan. 17, 1850, after sale of his property and payment of all his debts showed a remaining balance of $2,093.91 cash on hand. James Thompson's debts included fairly modest sums owed to Harrison THOMPSON, C.H. THOMPSON, and John KENNEDY. He also owed money to Elizabeth THOMPSON & A.J. THOMPSON, administrators of the estate of John THOMPSON, dec'd (probably his brother). In Aug. 1850, C.H. Thompson filed a lawsuit against William B. KENNEDY and George DOUGLAS to recover $400. This might be related to George Douglas' purchase of a slave, Charlotte, from James Thompson's estate in 1848; the sale price was $400. William B. Kennedy had probably agreed to be his surety which would explain why he was also named in the lawsuit.
Records
1790 Census, Wilkes Co., NC, 14th Co., p.124: JAS. THOMSON

1 white male over 16
0 white males under 16
1 white female
1800 Census, Surry Co., NC, p.696: JAMES THOMPSON

| | |
| --- | --- |
| 2 w/m under 10 | 3 w/f under 10 |
| 1 w/m 26-45 | 1 w/f 26-45 |
| No slaves | |
1810 Census, Surry Co., NC: Not listed
1812 Tax List, Surry Co., NC: James Thompson is not listed, but Elijah THOMPSON, Joseph THOMPSON, Sr., Joseph THOMPSON, Jr., John THOMPSON were in Capt. Witcher's District, which included the area around Mitchell River.
1820 Census, Surry Co., NC, p.774: JAMES THOMPSON

| | |
| --- | --- |
| 1 w/m over 45 | 2 w/f 16-25 |
| | 1 w/f over 45 |
Feb. 1826, Surry Co., NC, Court Minutes. Benjamin POTTER appointed overseer of the road leading from Jonesville to the intersection of said road with the Main State Road leading to Gap Civil, and that he be authorized to call on the hands of the Widow FRANKLIN; Widow of James FRANKLIN, dec'd; of Fountain SNOW; Fielding SNOW; Thomas NIXONS; Matthew NORMAN; Elijah THOMPSON, Esq; Ambrose JOHNSONS; Joseph ISACCS; William DOUGLASS; James THOMPSON (stay-maker); the widow RIGGS; Lott WILMOUTH; James THOMPSON, Senr; Joseph THOMPSON (smith); Joseph THOMPSON, Junr; Elijah ISACKS; Frederick WOLF; Lewis FRANKLIN; John FRANKLIN; Aaron KENNEDY; the widow MARSHALL; Raleigh POE; William THOMPSON, Senr; William MARSH; William KENNEDY; John KENNEDY, Larkin HOLBROOK; John THOMPSON; John HUGHES; Meshack FRANKLIN; Macajah OGLESBY; Mark ROSS; Cable DAVIS and Robert DAVIS, to cut out the aforesaid road.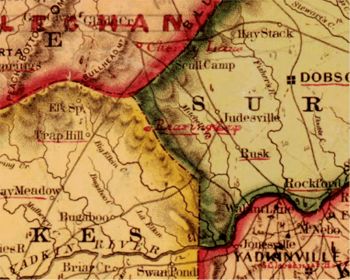 Wilkes, Surry, & Ashe Counties, NC
from an 1857 map
Note: The map at right, from an 1857 map of North Carolina

shows the road from Jonesville in Surry County (bottom right corner of the map) to Gap Civil in Ashe (Alleghany) County (upper left corner), exactly as described in the Feb. 1826 road order. The Thompson family lived on Mitchell River east of Roaring Gap. (Note, Roaring Gap is actually in Alleghany County -- there was some uncertainty over the county lines during the 19th century.) The road from Jonesville went through a pass in the Blue Ridge between Surry and Alleghany County known as Thompson Gap. In later years the road was called Thompson Gap Road (see, e.g., Alleghany Deed Book 7:357, 7:451, 7:452). It intersected with what is now Mountain View Road in Alleghany County (Road 1463) near the Mountain View Church. View a Google map.
1830 Census, Surry Co., NC, p.103: JAMES THOMPSON

1840 Census, Surry Co., NC, p.72: JAMES THOMPSON

James Thompson Last Will
In the name of God amen. I James THOMPSON Sen. of the County of Surry and State of N. Carolina this the 17th day of September 1847 being of sound mind and memory but being in bad health and calling to mind the mortality of my frail body and believing that it is appointed unto all men once to die and as touching whatever Earthly Estate hath pleased the almighty to bless me in this life after recommending my soul to God that gave it and requesting that my mortal body shall be buried Decently and in a Christian like manner such way as my family and friends may think best I dispose of the same in the following manner viz:
1st it is my will and desire that all my just debts be paid by my Executor of this my last will and Testament.
2nd I owe William THOMPSON over two hundred dollars and at my Death he is to have a Negro girl by the name of Kissy at $250.00 and he will pay over to the Estate the Balance.
3rd my desire is that my Blacks are to be put up and sold amongst my Children only[*] and all the rest of my real and personable Estate is to be put up before the public and sold on a twelve month Credit. Mary BREWER and Wm. BREWER my son in law is charged with a Negro girl named Grisan at two hundred and seventy five dollars.
4th as to John KANADA I leave him 25 cents only he married my daughter Sarah THOMPSON and she is no more an her portion of my Estate is to be paid over to the heirs of her body by my Executor as they become of age, to wit: Churchwill Tennessee Pleasant and Williamson KANADY.
Fifthly if it please the Almighty that my wife Rebecca THOMPSON outlives me my desire is that she is to have the House and plantation where I now live her lifetime also Gil and her youngest child and at her death Gil and child is to be put up and sold among my heirs only. The land is to be put up at her death at the highest bidder before the public and sold and equally divided among my children my wish is to put up all my property before the public and sell it except my Blacks Gil and child not to be moved.
I make and hereby appoint William THOMPSON my Executor of this my last will and testament hereby revoking all other will whatever in Testimony whereof I have hereunto set my hand and seal the day and date above written
James THOMPSON {seal}
Signed sealed in the presence of
A.J. THOMPSON, Jurat
H. THOMPSON, Jurat
* Transcriber's Note. The estate file contains the following list of the slaves who were sold on Jan. 6, 1848:
Boy Burrel to John O. THOMPSON - $400.00
Charlotte to George DOUGLAS - $400.00
Milasid to W.B. KENNEDY - $325.00
Caroline to W.B. KENNEDY - $170.00
Jane [James?] to J.O. THOMPSON - $230.00