Chesley Cheek -
Abstracts of Records
1830 Ashe County, NC, Slaveholders List; CHESLEY CHEEK, 3 slaves
Mar. 29, 1836. Ashe Co., NC. Polly HARDIN, John BLEVINS, Elizabeth HARDIN, Eli WILSON & wife Charity, the heirs of William HARDIN, dec'd, to Chesley CHEEK, 33 acres, for $50. Signed: Jno. BLEVINS, Eli WILSON, Polly HARDIN, Charity HARDIN, Elizabeth HARDIN. Proved July 3, 1837.
1840 Census, Ashe Co., NC p.8: CHESLEY CHEAK

| | |
| --- | --- |
| 2 w/m under 5 | 2 w/f under 5 |
| 1 w/m 20-30 | 1 w/f 5-10 |
| 4 slaves | 1 w/f 30-40 |
May 5, 1846. Andrew WILLEY to Chesley CHEEK, 100 acres on Moqueson [Moccasin] Creek adj. LENAWARS [LENOIR's] 300 acre tract, CONNELY, & the fork of Moqueson Creek, for $130. Signed: Andy (X) WILLEY. Witnesses: Alexander RICHARDSON, Archibald EDWARDS. Proved Aug. 14, 1869, by Alexander RICHARDSON. (Alleghany DB 1:325.)
July 31, 1847. Chesley CHEEK to Richard CHEEK, 129 acres on Little River "being part of a 200 acre survey he bought of Chesley CHEEK" adj. Little River, a branch, & Richard CHEEK, for $128. Signed: Chesley CHEEK. Witnesses: Jno. S. TAFFER, Thos. C. DOUGLAS. (Alleghany DB 1:15.)
Mar. 8, 1850. Samuel COX, Sr., of Grayson Co., VA, to Chesley CHEEK of Ashe Co., NC, 94 ¼ acres on Moqueson [Moccasin] Creek adj. Archibald EDWARDS & Granville H. COX, for $82.50. Signed: Samuel COX. Wits: C.H. DOUGHTON, John R. COX. Proved Sept. 11, 1869, by John R. COX. (Alleghany DB 1:324.)
1850 census, Ashe Co., NC, p.254 (HH#238):
CHESLEY CHEAK, age 40, farmer, $750, b. in NC

-- Phebe, 48, NC
-- Sally, 17, NC
-- Richd, 16, laborer, NC
-- Elizabeth, 14, NC
-- Lucinda, 12, NC
-- Abner, 11, NC
-- Gilly, 9, NC
-- Wm, 7, NC
Mar. 14, 1858. Hastin FULTON to Chesley CHEEK, 195 acres beg. on top of a ridge south of said CHEEK's house, to the river at the mouth of a branch, for $120. Signed: Hastin FULTON. Wit: John J. BLEVINS. Proved Aug. 14, 1869, by J.J. BLEVINS. (Alleghany DB 1:442.)
Geographic Note: Alleghany County was formed from Ashe County in 1859.
1860 Census, Alleghany Co., NC, Glade Creek Twp., p.436 (HH#676):
CHISLEY CHEEK, 52, farmer, $2200, $950, NC

-- Pheby, 58, NC
-- Elisabeth, 22 NC
-- Lucinda, 20, NC
-- Abner, 20, Laborer, NC
-- Gilley, 18, NC
-- William, 16, NC
1860 Census, Agricultural Schedule, Alleghany Co., NC: CHIS. CHEEK: 50 acres improved land, 806 acres unimproved land, value of farm $2020, value of farm implements $40, 5 horses, 0 asses/mules, 7 milch cows, 0 working oxen, 16 other cattle, 81 sheep, 50 swine, value of livestock $700. (Source: New River Notes

)
Dec. 27, 1864. "Heirs of Chesley Cheek" (not identified) are named in Richard Cheek's will (Alleghany WB 1, p.19).
The following deed mentions 300 acres purchased by Chesley CHEEK from Solomon TOLIVER although the original deed has not been located:
Mar. 10, 1882. Richard CHEEK to H.S. EDWARDS, mortgage deed, 300 acres on headwaters of Crab Creek known as the old John FENDER land, adj. COX and Cheek Lane, for $375.42; being the land that Richard CHEEK & Chesley CHEEK bought from Solomon TOLIVER. To be void if Richard CHEEK shall pay $375.42 to Celia JOHNSON according to the conditions of a certain bond or note payable to Celia JOHNSON for which H.S. EDWARDS is security. Signed: Richard CHEEK. Wit: W.C. FIELDS. Proved Mar. 11, 1882. (Alleghany DB 5:137-138.)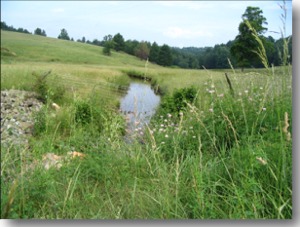 Moccasin Creek, Alleghany Co., NC
After Chesley's murder in 1864, his children divided up his land by private agreement. Richard received 300 acres in exchange for payment of $500 to the other heirs, William received 5 tracts totalling 397 ¼ acres for $500, and the rest went to Chesley's three unmarried daughters for payment of $160 each: Gilly (3 tracts totalling 120 acres), Lucinda (72 acres), and Elizabeth (67 acres). Sally & Thomas Higgins did not take any land but would have received a share of the payments. Chesley's widow, Phebe, retained a life estate in her dwelling house and the surrounding 100 acre tract which was one of the 5 tracts purchased by William Cheek. (Alleghany Co., NC, DB A-1, pp.187, 212, 231, 246, 247.) These records indicate that Chesley Cheek, at the time of his death, owned at least 1,057 ¼ acres of land in northeastern Alleghany County on the Little River extended west along Moccasin Creek and east to Crab Creek.

We are held and firmly bound unto the State of North Carolina in the Sum of four thousand dollars witness our hands & Seals this the 23 July 1864. the conditions of the above obligation is Sutch that wheras Phebe CHEEKS hath been appointed administrator of the estate of Chesly CHEEKS Dec now therfore if the said Phebe CHEEKS Shall well and truly administer the Said estate by collecting all the estate and paying and paying out the Same accordin to law returning a true and perfict inventory as for the Said estate at the nex term of this Court and in all things appurtaining to the Said estate or administration well and truly to do and per form as the law directs then the above obligation to be Void otherwise to remain in full force and Virtue.
Phebe (X) CHEEKS {seal}
AM BRYAN {seal}
Richard EDWARDS {seal}
Test--
H.S. REEVES